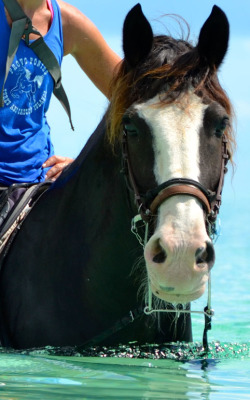 CLYDE is a Clydesdale Throroughbred cross. Born in 2000, Clyde has been at Provo Ponies since Dec. 2012. He stands at 16.3 hands high so he is a great ride for our heavyweights!!! Clyde is an energetic ride most days and likes to be near the front of the pack. He enjoys a canter down the beach and occaisionally thinks he's trying to win the Kentucky Derby, but most rides he's happy chillin', wading in the water and munching on seaweed. He is a great ride for a strong Novice to Advanced level riders, but we tend to put riders over 150 pounds on him because he's so strong!!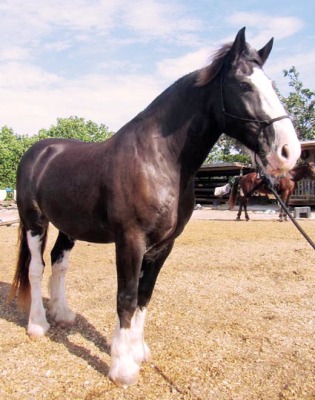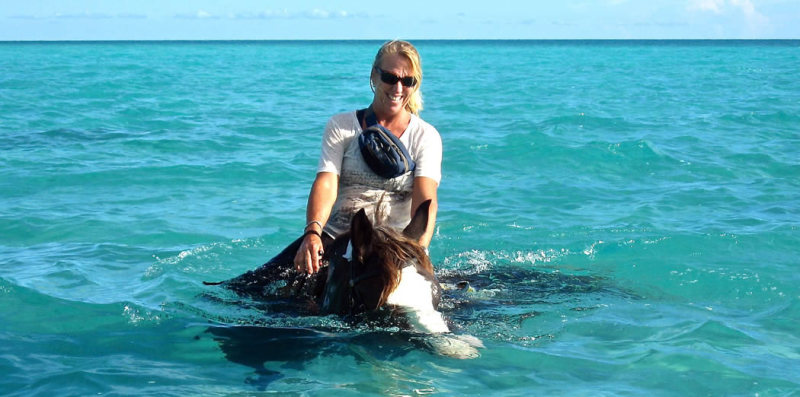 MAX is Quarter horse/ Arab/Belgian (we think). He came to us at the same time as Thor and Clyde. Born in 2006. He started out quite fearful and untrusting. After working with him and building trust, he's turned into quite the level headed dude. Very calm, easy going and passive. He can be a little on the lazy side, but loves taking his riders out for swims in the deepest water he can find. A run on the beach is always fun on Max for an advanced rider, but he's better suited for those who are happier at a quieter pace....that is more his speed.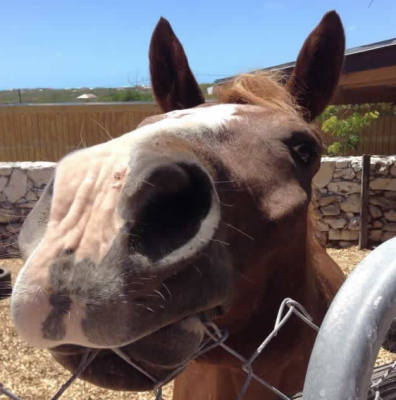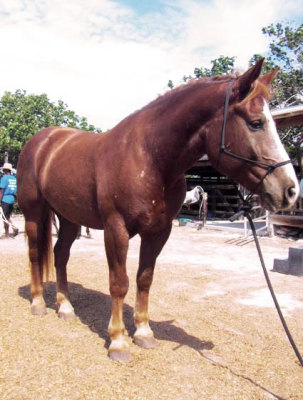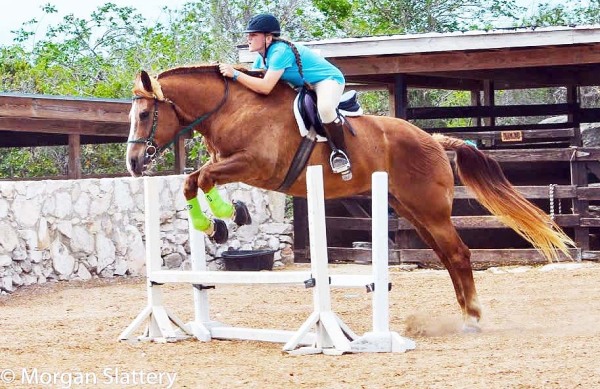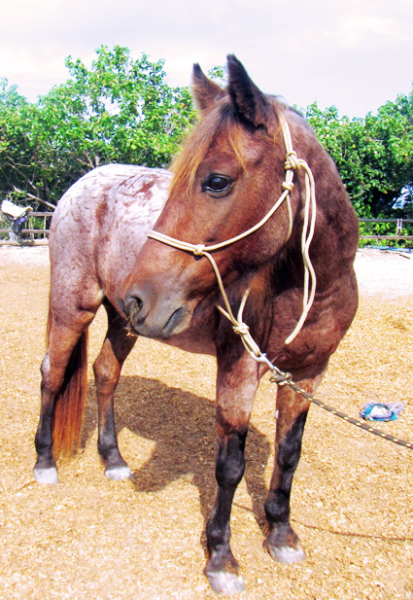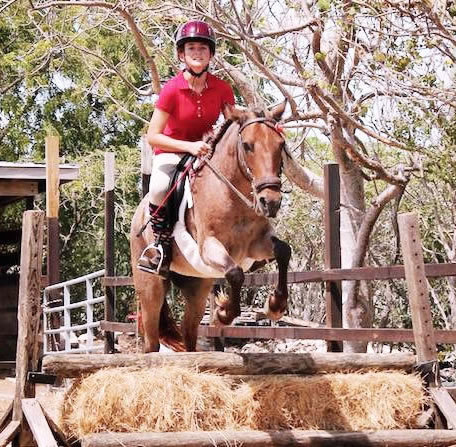 PATCHES is a 13.1 hand Grand Turk Pony rescued as a 2 year old out of the Grand Turk Horse Pound in 2005 by his first Mommy, Carole. Carole gave him to Provo Ponies in October, 2012. He was quick to learn and adjust to his new gig. He LOVES the water and the beach and is one of our hardest working ponies now. He's even turned into a great pony for our students to learn to ride on. He's just an all around great little steed, perfect for for beginners to advanced level riders under 140 pounds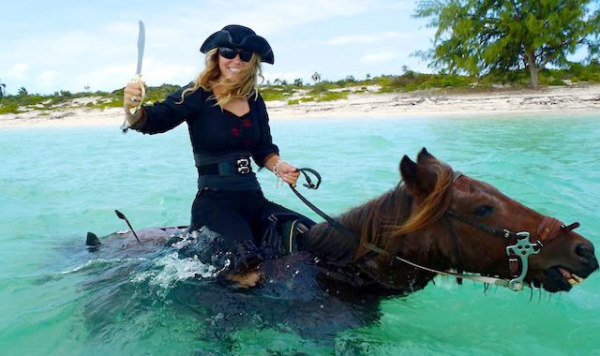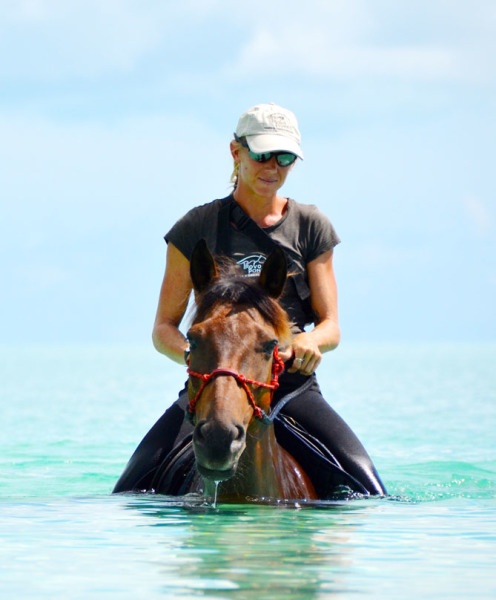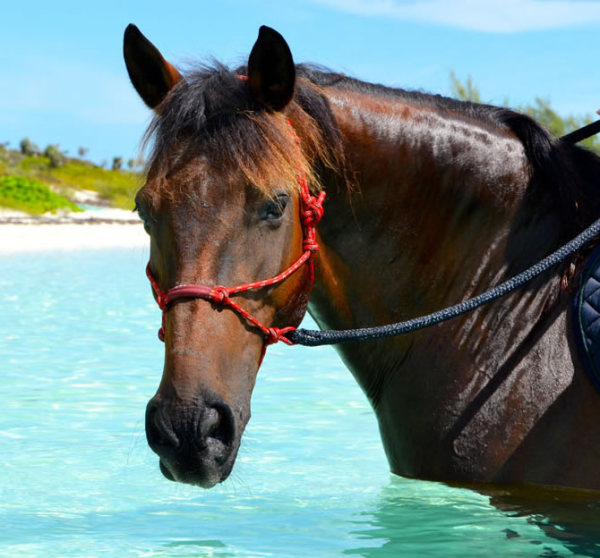 SAMSON
 came to Provo Ponies in May 2015. He's 15 hands high, mixed breed from the Dominican Republic born in 2003. Samson is like the energizer bunny. He is an incredibly athletic horse and would love nothing more than to race down the beach as fast as his legs can carry him!!! Only problem is stopping him. He loves swimming and moans and groans with pleasure the whole time he's in the ocean. He is a guide horse for now, until he learns to calm down a bit and embrace the 'Island Time' mentality that the rest of our ponies have mastered.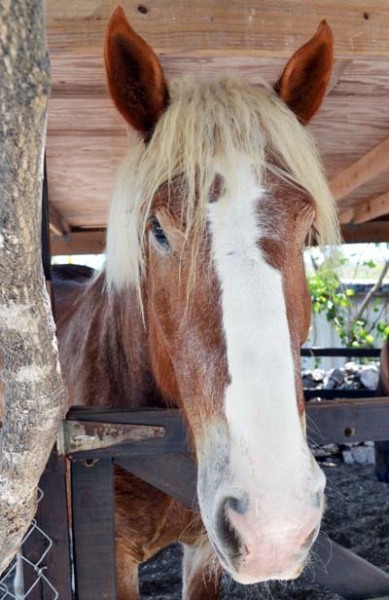 TURTLE is a Belgian Draft, born in 2003. He's a massive 18hh. He was abandoned by his owner in Grand Turk and left to fend for himself for 2 years. He was about 500 pounds underweight when we finally convinced the owner to sell in Sept/10. He has had trouble with his hooves due to the neglect he suffered, but is much better now and he absolutely loves to go to the beach. He used to be a carriage horse, but he's turned out to be a complete gentleman under saddle, a little frisky if the mood strikes him, but always very good natured.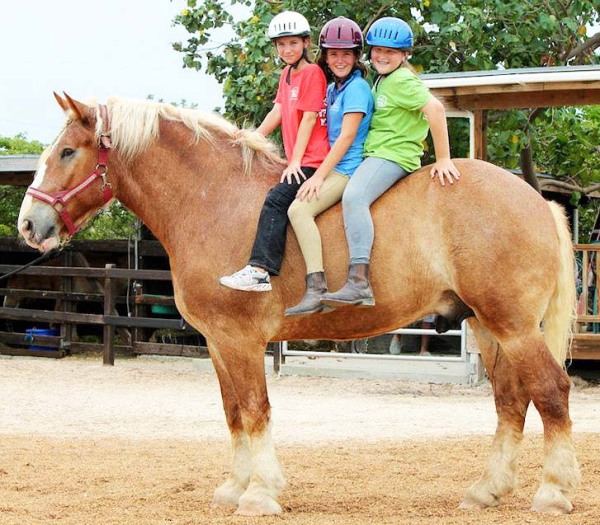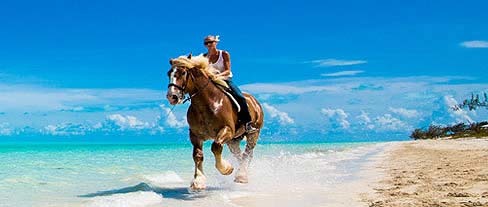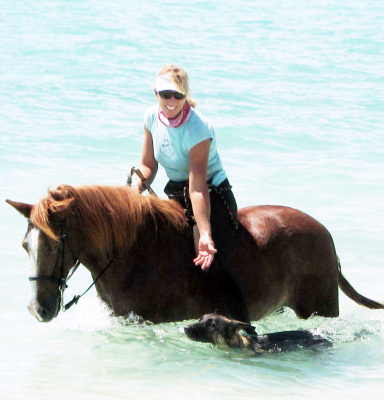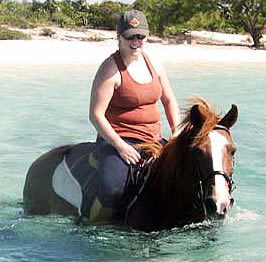 RUBY 
is Tuesday and Mango's mother. She is a Grand Turk Pony born around 1997. She is tall for a native pony measuring 14.1 hands. Ruby is a very smart mare, and not scared of anything which is probably why she is our alpha female. She's older, but still has plenty of pep and enjoys a nice canter along the beach. Ruby loves the water....especially when there is a lot of seaweed washed up for her to munch on!! She is a strong minded mare and likes her personal space. She's best suited for a lightweight adult or older child who has ridden a few times.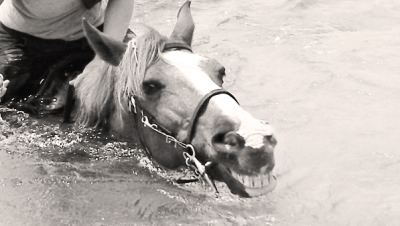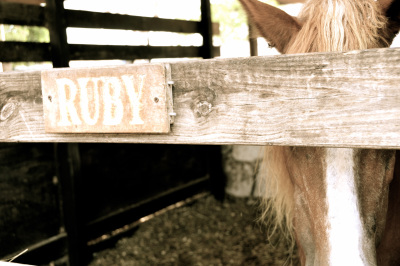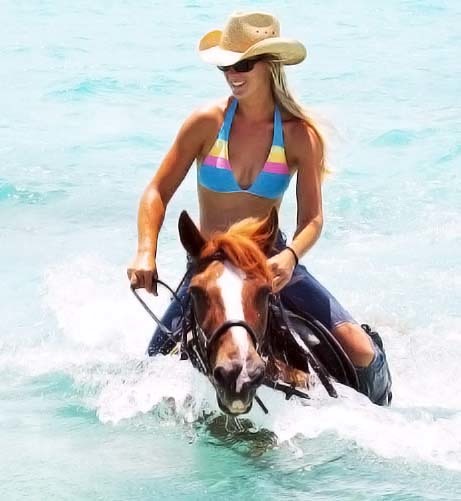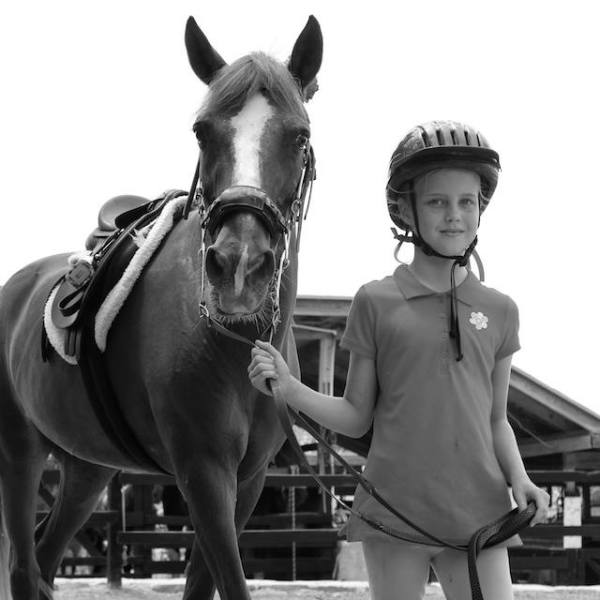 MANGO 
is a wonderful mare. She is Ruby's daughter, born in 2001. She inheirited her mothers height and stands at about 14.1 hands. Mango is a vibrant energetic pony who will most likely take her mothers place as alpha female when Ruby gets too old to keep everyone in line. Mango is a very confident mare who is happier out if front. She doesn't spook easily, loves to run when given the chance and really enjoys the water. She likes her personal space as most mares do and she likes to act tough around the 'BIG BOYS'. She's fearless and very calm; a great ride for adults and older kids from beginner to advanced level.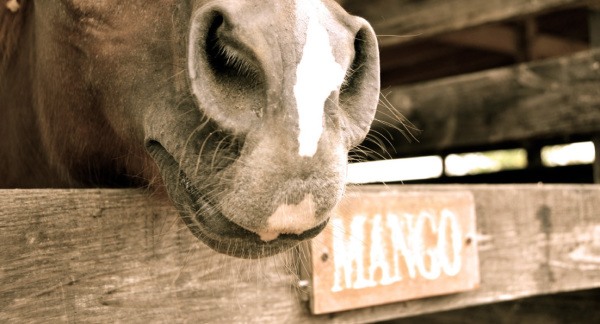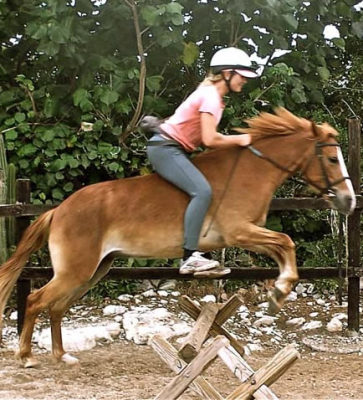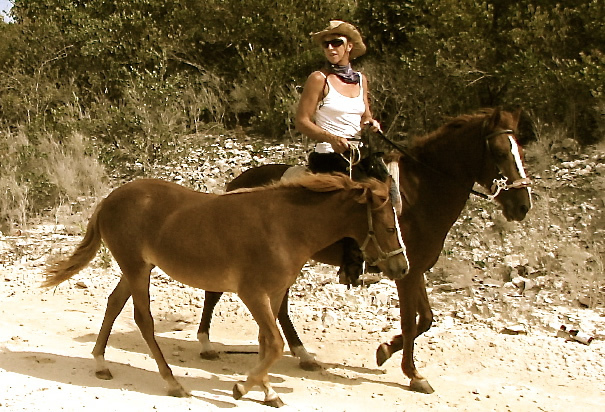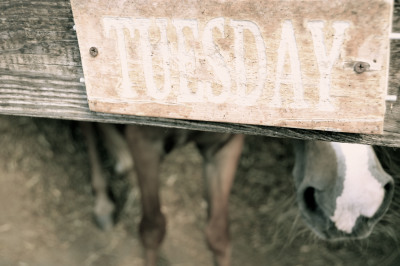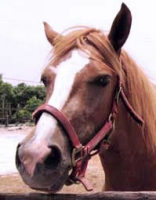 TUESDAY is also a Grand Turk Pony, but is lucky to be the only Provo Pony born at our stable. She's been spoiled with TLC since day one. She used to follow her mother Ruby or her sister Mango on the trail rides when she was a baby, so she is bomb proof....nothing scares this pony!!! She did however get into the habit of snacking on the bushes on the roadside on the way to the beach, so she needs a rider who won't let her nibble her way to the beach. She's not too tall, only 13.2 hands. So she's great for lightweight adults and children with some riding experience.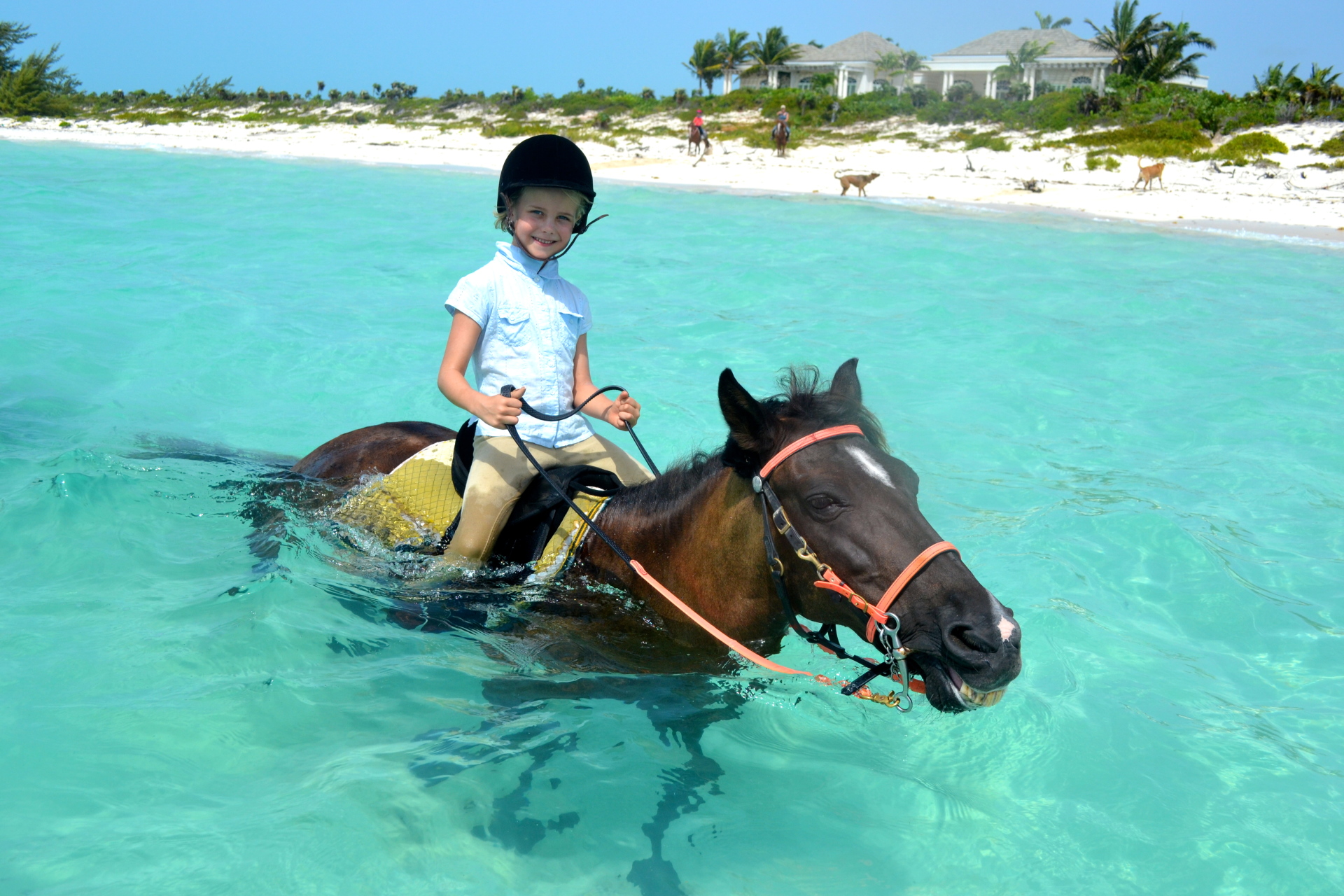 BONNIE is a Grand Turk Pony born in the late 90's. She was rescued out of the Grand Turk Horse Pound. Camille was not going to take her, but Bonnie followed her around all day during her visit to the pound, so she finally gave in and agreed to buy her. So happy she did! Bonnie has been a super star since her arrival at Provo Ponies in 2005. She is about 13.1 hands high. She is very calm and quiet, great for the nervous rider or young child. She's not afraid of anything which makes her a very safe ride. She doesn't like the big draft horses getting too close to her though. She's a 'lady' and likes her personal space.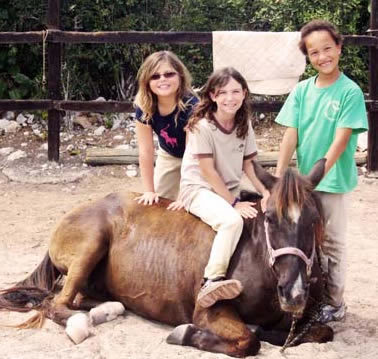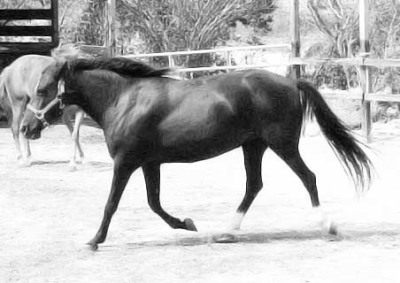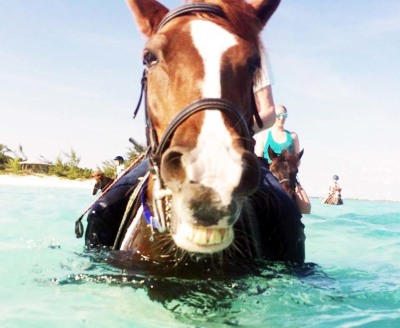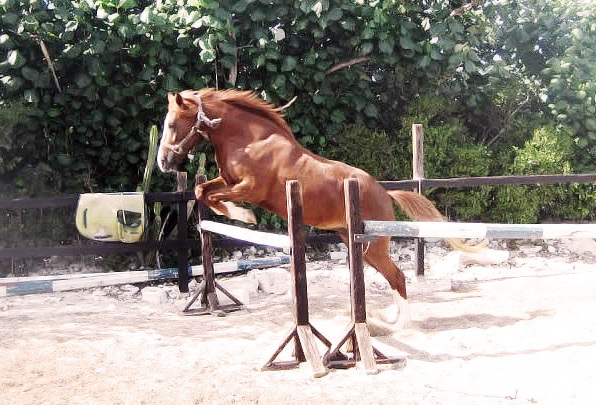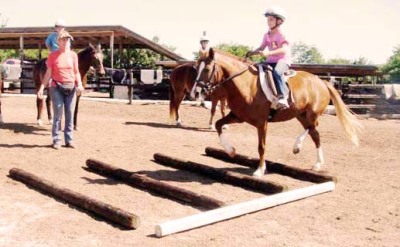 SQUEEK
 is originally from South Caicos. She is 13.2hh, born in 2006. She's a perky, sassy little mare full of character!!! Some days she wants to be up front with the lead horse....other days she's happy chillin' at the back. She's a fun ride for intermediate to advanced riders. She has a very comfy trot and her canter is lovely....as long as she's not crow-hoppin' down the beach having a 'Squeek' day. Her legs move a mile a minute, but she doesn't seem to go anywhere which makes her look very fancy! Every now and then though....she'll kick it into high gear and look like a miniature Triple Crown contender racing the final leg at the Belmont Stakes!!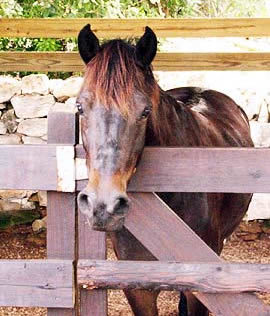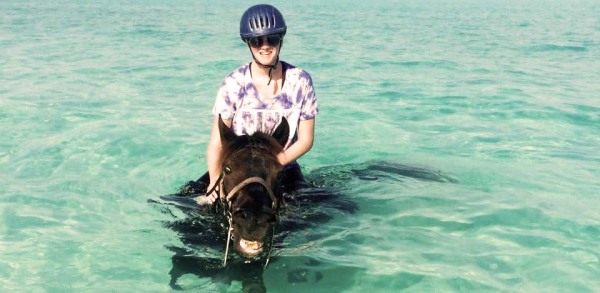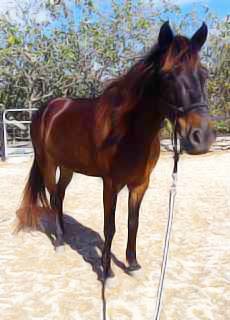 SPIRIT is a handsome dark bay with no white markings. He is a Grand Turk Pony born around 2000. He is only 13.2 hands, but is built like a tank. He likes to take it easy on his way to the beach and see how much nibbling his rider will let him get away with. Some days he loves to run down the beach as fast as he can, other days he just wants to wade in the water. He is a great ride for beginner to advanced level adults. A little hard headed....but any real horseperson knows that the best horses always are.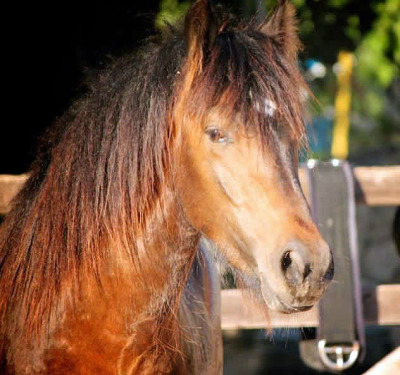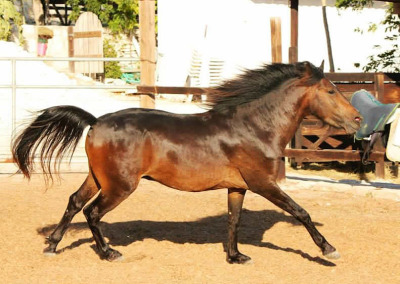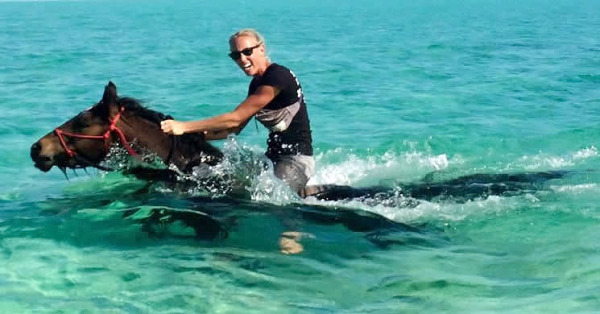 JAMMIN
is a Grand Turk Pony born in 2011. Provo Ponies bought him in 2014 after his owner decided he was a bit rambunctious to keep in his back yard. After 2 years of training this little man has become quite the trail pony. He's small, under 13 hands, so ideal for small adults and children. Jammin's favorite thing to do is swim. Most rides, especially on the calmer days he heads out into the deeper water to swim alongside the Draft horses while they wade in the water. Jammin is still young, but is very smart and brave; a great addition to the herd.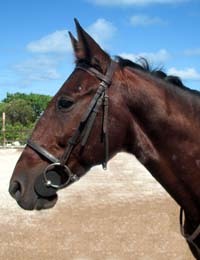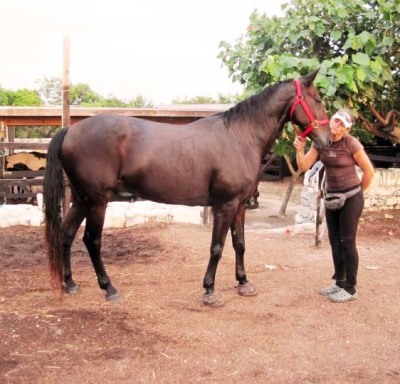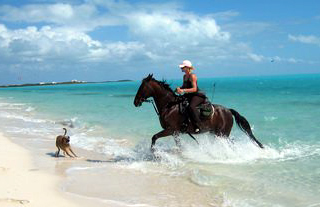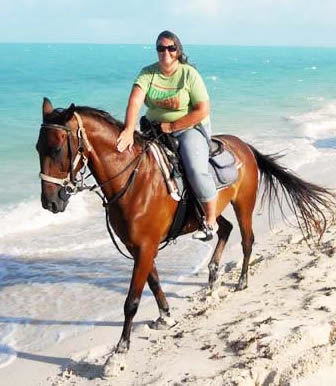 LEVI 
is a Standardbred from the U.S. He was originally brought to Grand Turk to pull HUGE carriages packed with cruise ships passengers docking in Grand Turk. Well, the heavy work did him in and we purchased him along with 3 of his friends in 2007. He was a pretty 'hot' horse when we first got him but has since settled down and is a great ride for beginner/novice level riders and advanced riders who don't feel the need to run too much. A hoof condiditon he has allows him to walk and trot and only do very short canters (as much as he'd like to do more). We like to take it easy on him because he had it pretty rough coming from the track and carriage industries. Levi never quite lost his competitive edge from his years as a sulky racer and he still insists on being near the front of the group. If there's an opening on the outside lane...he'll take it to win the race!!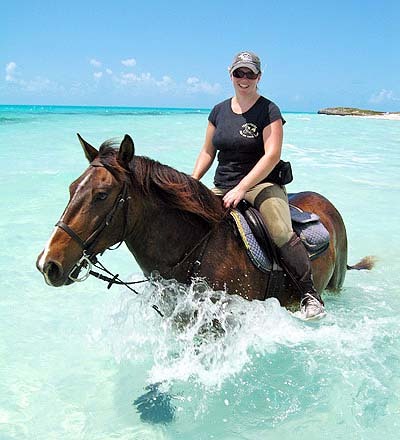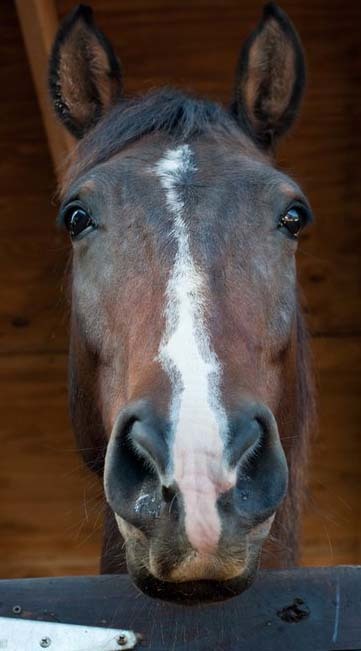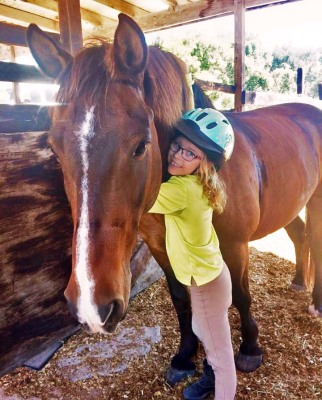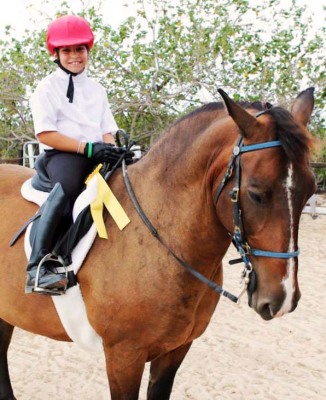 IKE
 is a Morgan Percheron cross. He's about 15 hh and was born in 2000. We've had him since Sept. 2010. He was abandoned by his owner on Grand Turk and left to fend for himself. We finally convinced the owner to sell, and he's been a happy camper ever since. He has a saintly disposition. Ike happily plods gently along for the beginner riders he gets, but LOVES kicking up his heels and giddy-upping down the beach for the advanced riders. He is a very hard working boy, but he loves his job.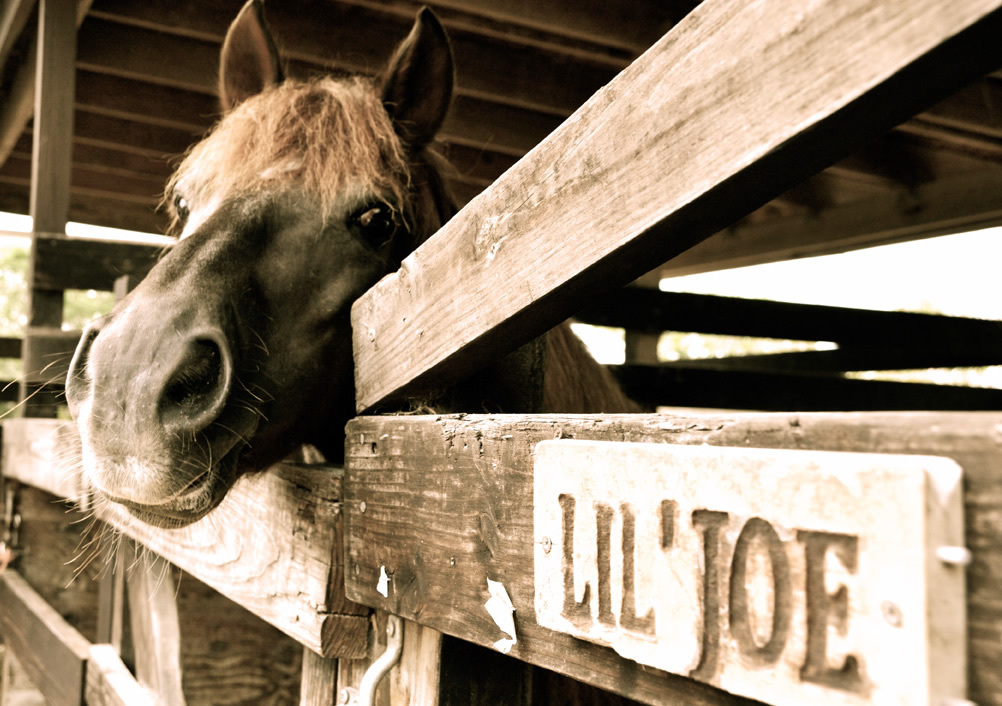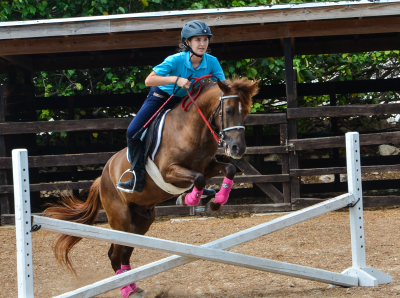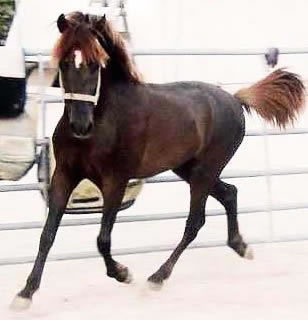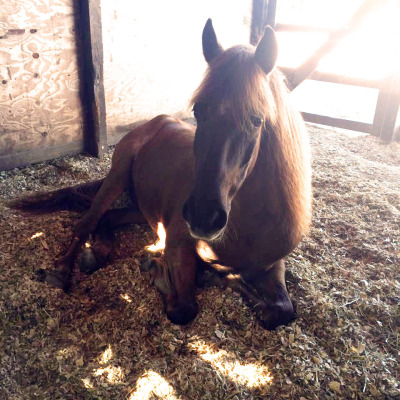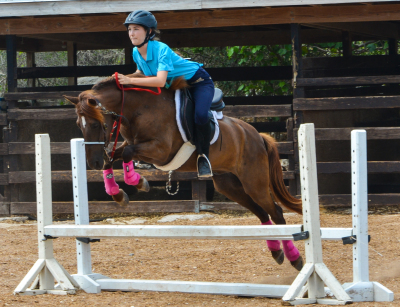 LIL' JOE
 is a force of nature!!! He is a guide horse and will most likely remain a guide horse forever. Not really safe for tourists because of his unpredictable nature. He is from South Caicos and was sadly separated from his mother at a very young age and never learned 'manners' from a herd as he grew up alone. We got him as a 5 year old. He'd ever been ridden and had only just been gelded. He's a lot of fun to ride if you know him and know what to watch out for (trucks, platic bags, kites, invisible horse eating monsters, etc) He's only about 12.2 hands high, which is unfortunate because with his athleticism he probably could have been an Olympic jumper!!!!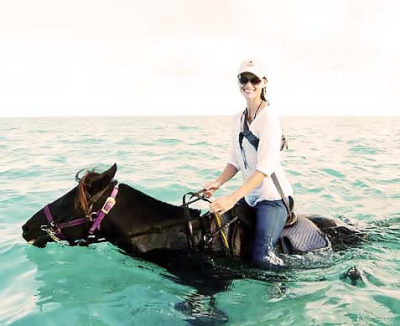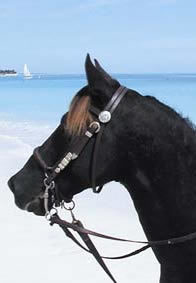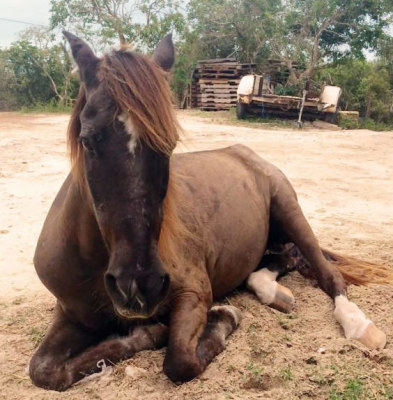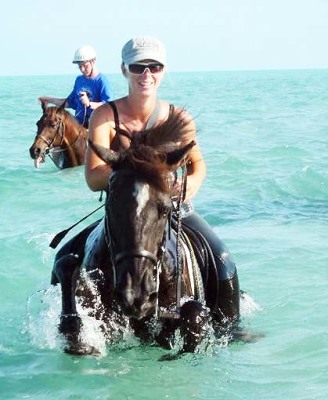 LIMBO 
is a legend in this country. He was born in Grand Turk in the early 80's and is still going strong! He's not big, only 13.2 hands high, but his status in the herd is unquestionable. Limbo is our Alpha male and everyone knows it. His dominance however, doesn't trancsend into his behaviour on the trail rides. Limbo is an excellent horse for lightweight beginner riders. He is calm, confident and loves to swim! Due to his age he only goes out a few times a week, so if you're the lucky one to get to ride our Limbo, count your blessings.​​​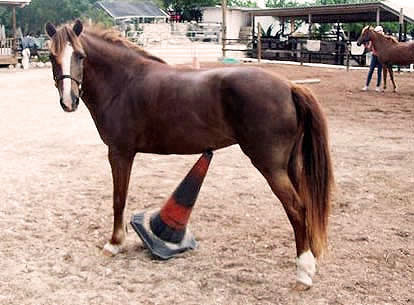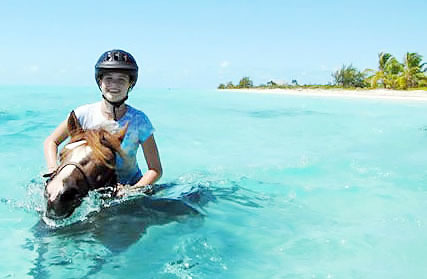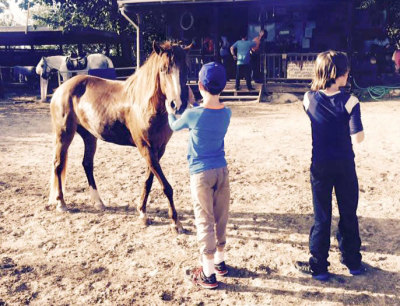 SUNSHINE  
is a Grand Turk pony, born in 1998 who stands at 12.3hh. She is sweet and gentle, and is a great little pony for kids. She's a showy little mare, and likes to take kids for slow trots down the beach and splash in the sea. She came to Provo Ponies in Dec. 2009, and has made herself right at home, living next to her son, Apache.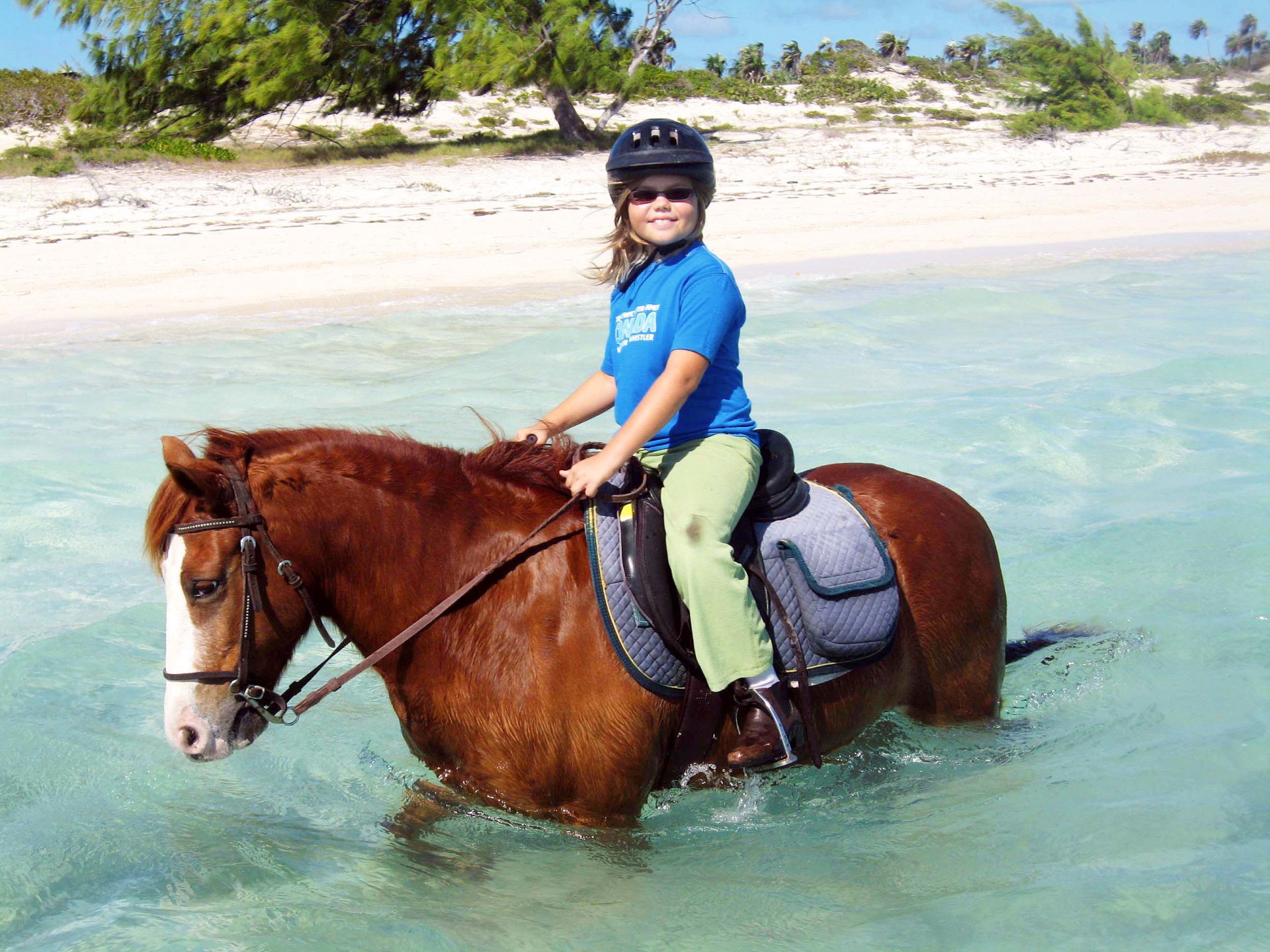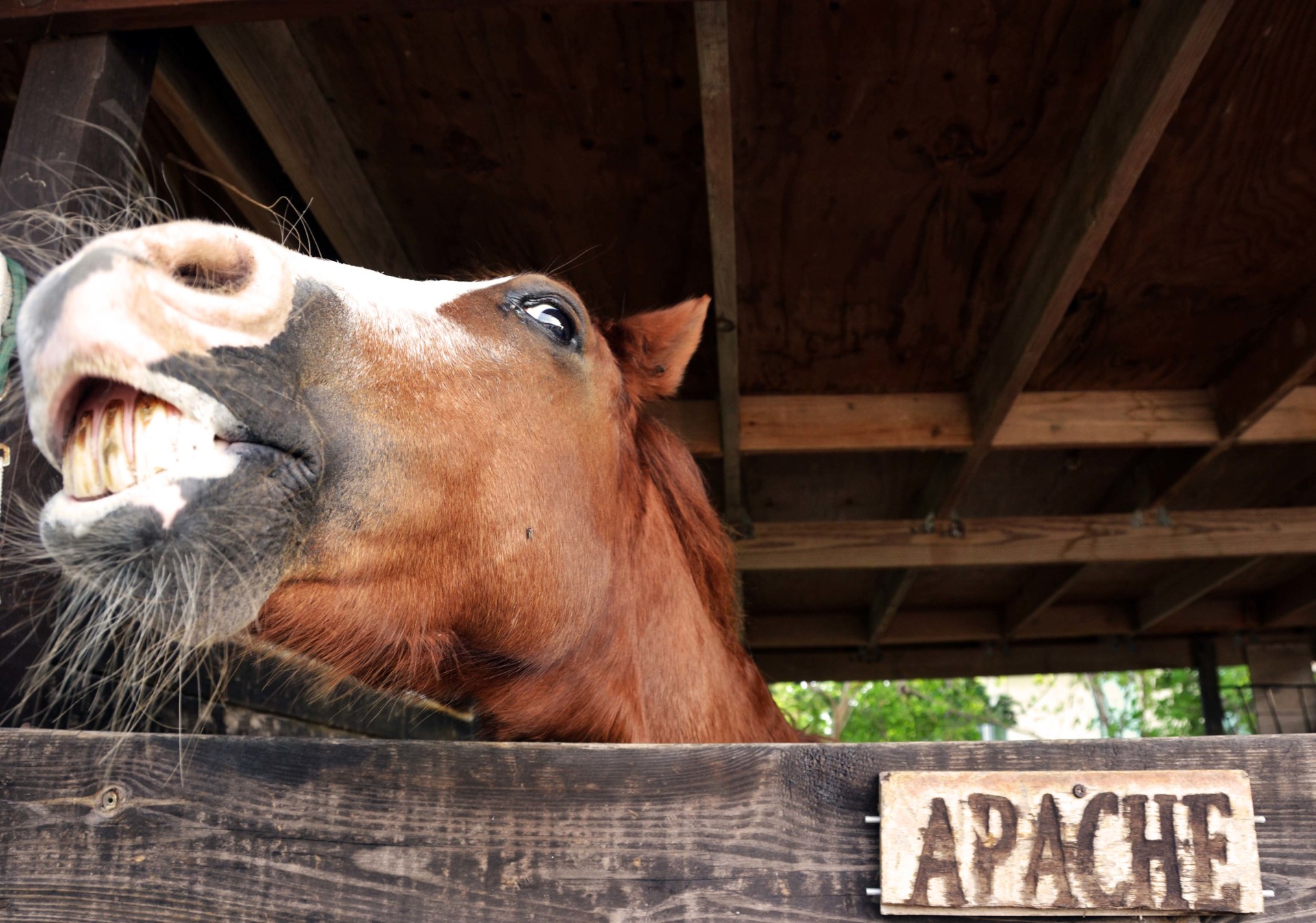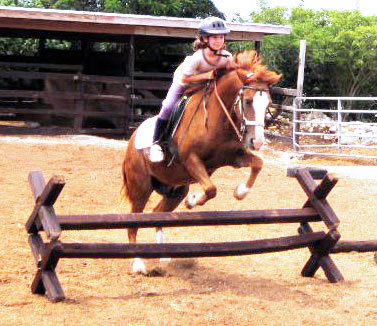 APACHE
 is a Grand Turk pony. He stands at 13.1hh. He's built like a freight train but is a very careful mover. He's a little pokey, but bombproof for beginners, and a solid ride for intermediate to advanced children and adults who aren't used to 'push button ponies'. He is Sunshine's son and was born on Provo in 2002. Apache has a bit of a Napoleon complex and likes to pick on the big draft horses.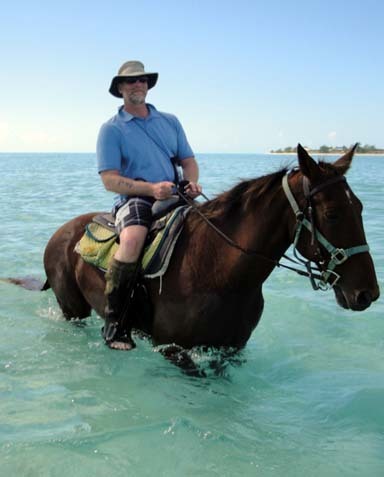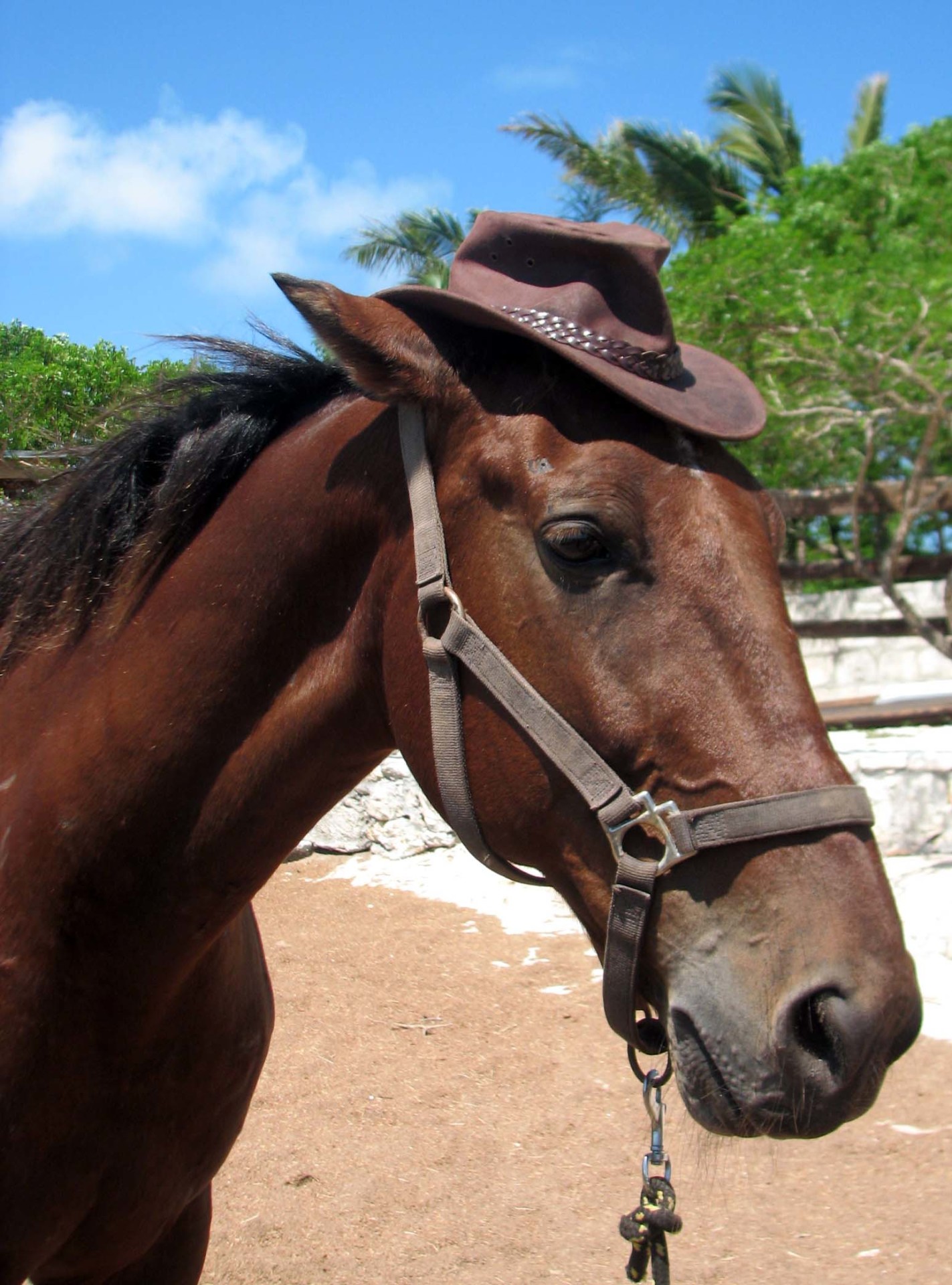 PILGRIM
 is a star. He's a Standardbred, 15.2 hands, born in 1994. He's a very level headed dude who used to be a sulky racer and carriage horse like Levi. Now he is as happy as can be taking people to the beach and wading in the water. Our guess is he earned a fair penny on the track in his day. But since his arrival at Provo Ponies in 2007 he has learned to relax, and embrace island life and is a great ride for someone who wants to sit back and relax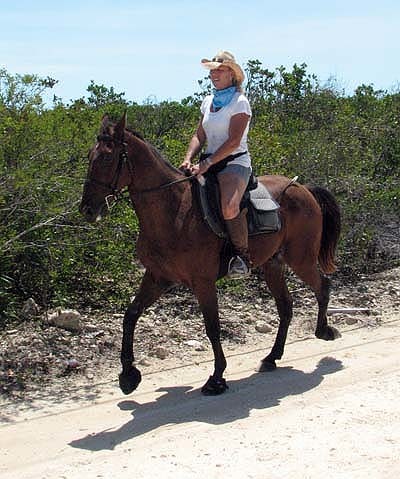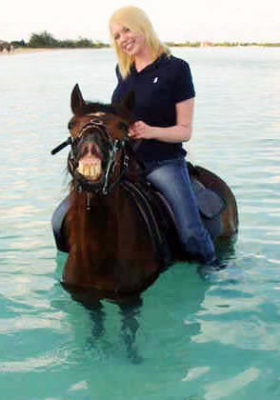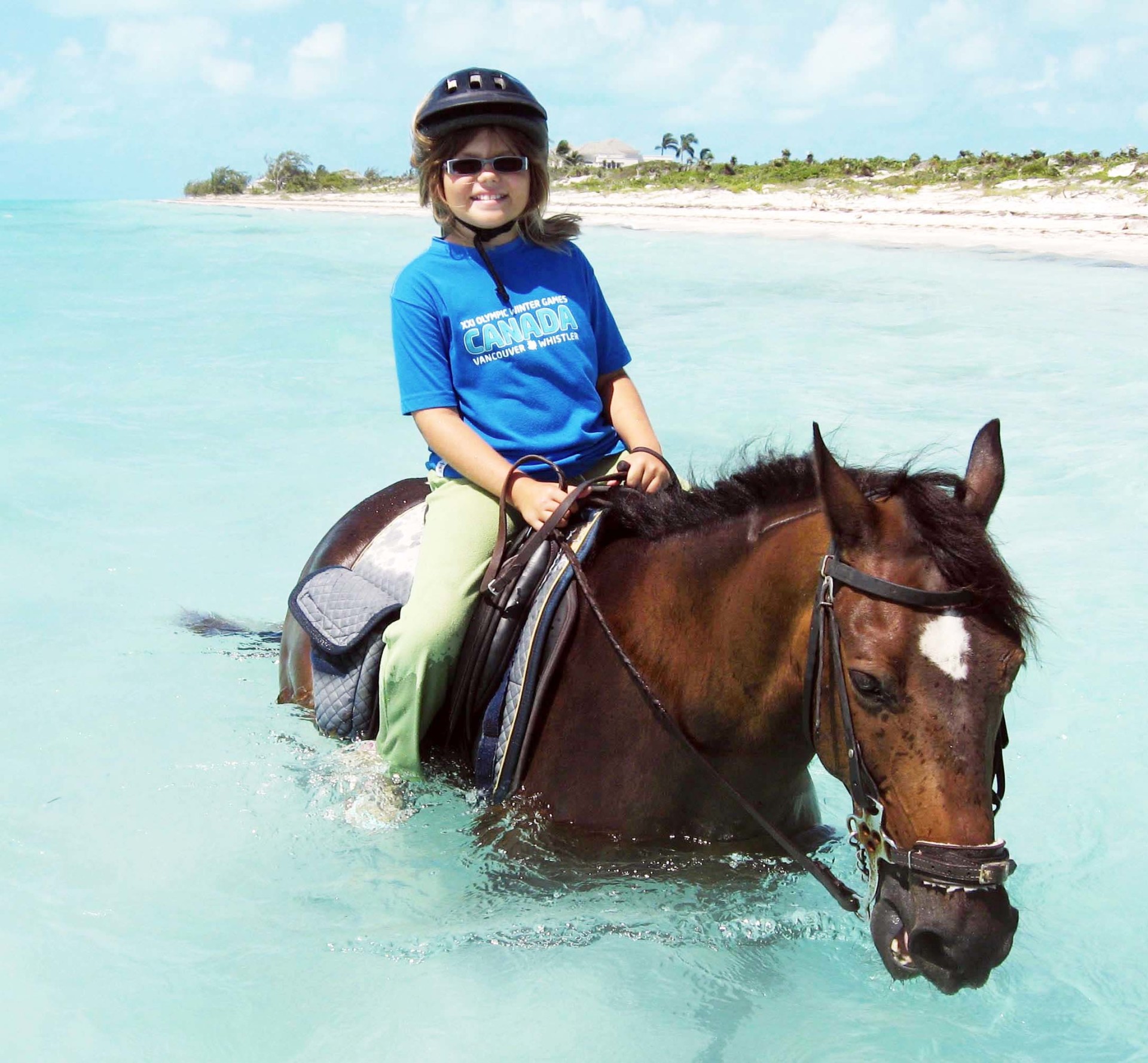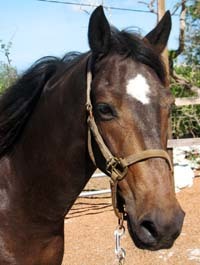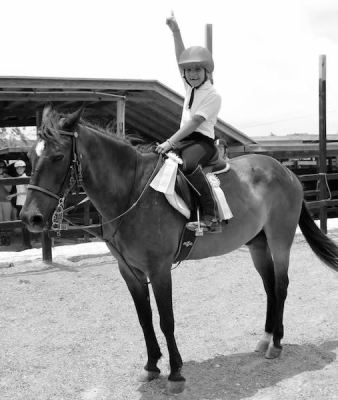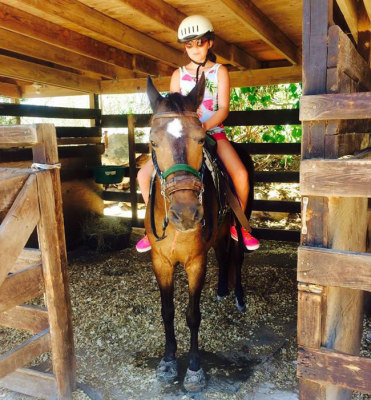 DIAMOND
 is the class clown. He's full of character. He's from Grand Turk, 13.2hh, born in 1998. He's great for all levels, children and adults, but we like to put riders on him who'll put him to work.....otherwise he's likely to daydream and nibble on every tree in sight. He has a lovely canter and is a very good listener if his rider is asking him properly.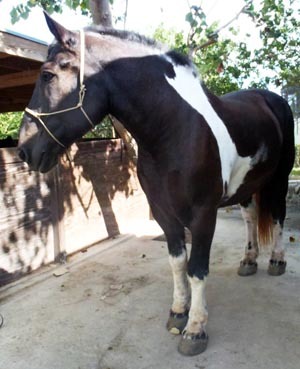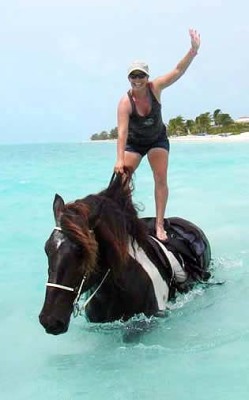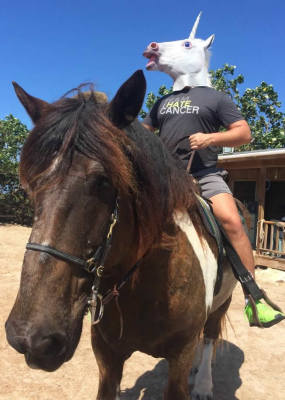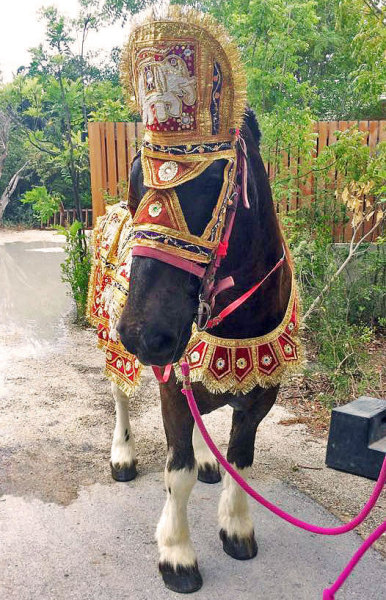 THOR
 is a Shire or Percheron cross (we think). He (along with Max, Clyde, Turtle and Ike) was abandoned by a carriage company on Grand Turk after the hurricanes of 2008. We bought him and his friends in December, 2011. He is a HUGE teddy bear, and is very good natured. He loves the ocean and actually groans with delight when he wades into deeper water. He is a very level headed horse, though not very independant. He's great for beginners, but will also take a Novice-Advanced Rider for a gentle canter down the beach if they're up for it.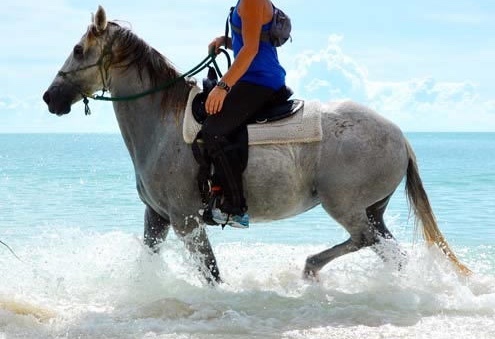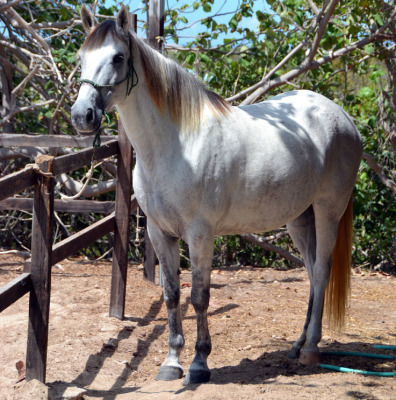 ROSALIE 
is Camille's mare. She was born in the DR in 2005 and came to Provo Ponies in May 2015 wild, unbroke, and most likely mistreated. Camille has been working with her building trust and rehabilitating her. She is now broke to ride but only by a lucky few.....she is the smoothest ride you'll ever know. Rosalie is part Andalusion and is gaited which makes for a very comfy ride. For now she is a guide only ride and Camille's personal mount. Rosalie is far to sensitive to trust in the hands of a stranger.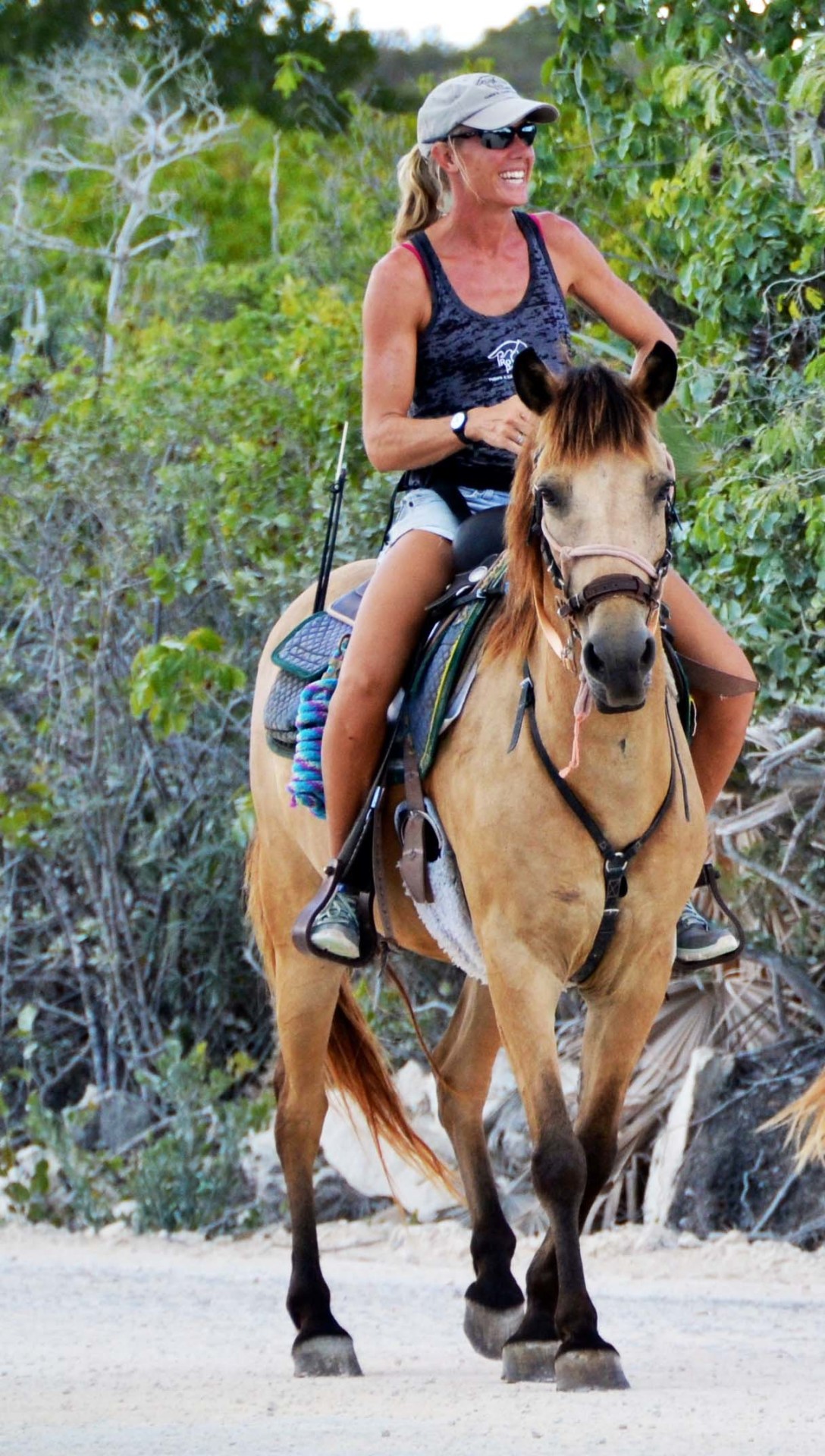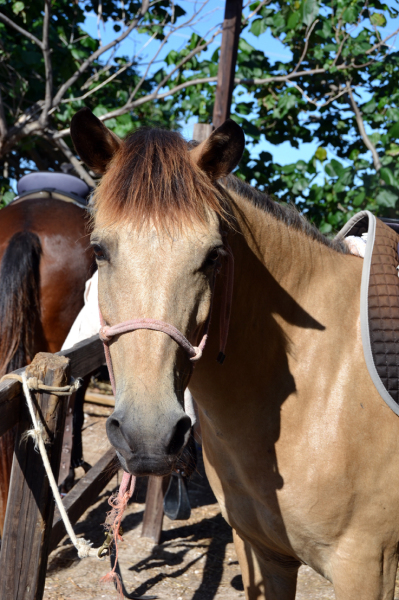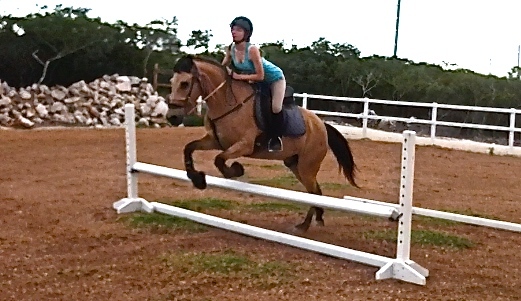 GINKO
 is a mixed breed from the Dominican Republic, about 14.2 hands. He came to Provo Ponies in May 2015. He was very skeptical at first.....not very trusting of his new human companions, but he warmed up quickly and is on his way to becoming a fantastic trail horse. He is a nice forward ride, but doesn't like to be out in front leading. He loves to run down the beach and take his rider out swimming. He's still a little unsure of himself and needs a rider who can give him some guidance and reassurance so he's for intermediate to advanced riders.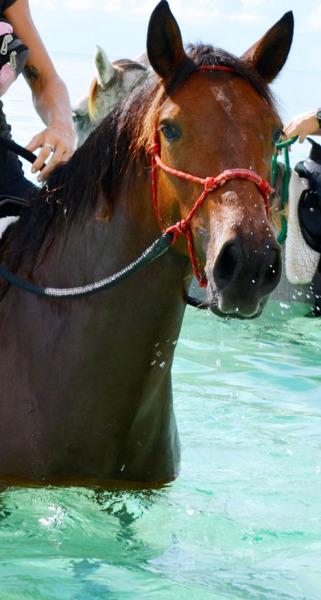 GITANA
 is an absolute hoot! She is Paso Fino from the DR. Born in 2009, she's 14 hands high and is a lovely little mover. She only arrived at Provo Ponies in May 2015 so she's green and still learning the ropes. She freaks herself out in stressful situations, so she'll be a guide horse and for advnaced riders only until she's more self assured. She is one of the friendliest pony's you'll ever meet though and practically jumps into your lap if you let her.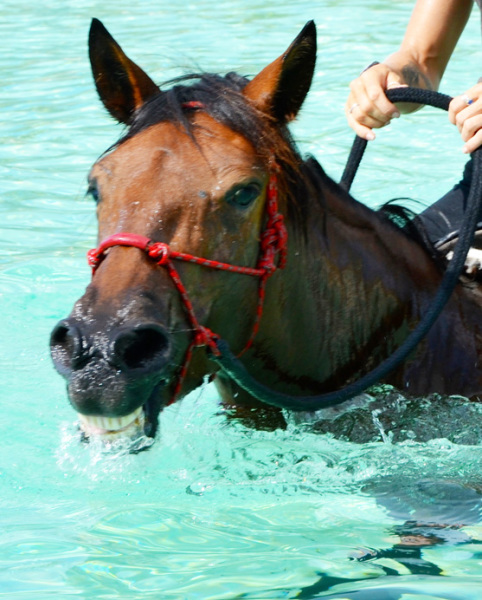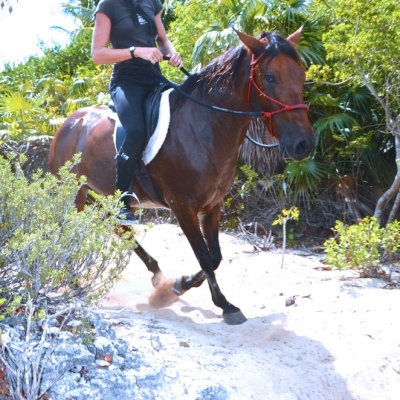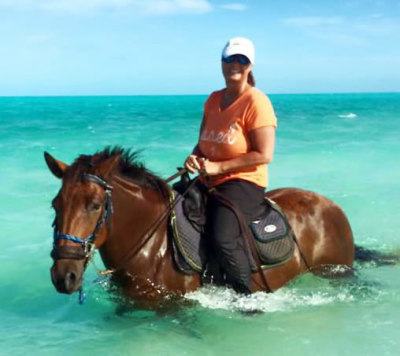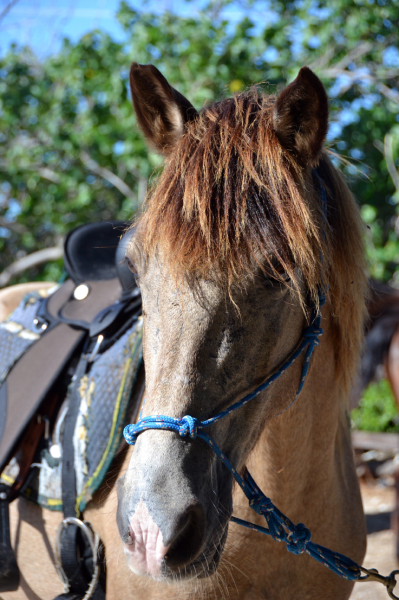 ​
CHINO
is a mixed breed from the Dominican Republic. He came to Provo Ponies in 2015. Born in 2005, Provo Ponies purchased Chino out of a back alley in the DR skinny, scared and full of saddle sores. He has been quick to rehabilitate and enjoys his new job taking people for rides on the beach. He loves the water and some days stomps his hooves in delight upon entering the ocean. He likes to be up front with his new buddies Clyde and Levi. Chino is a great ride for adults and older children with a little riding experience.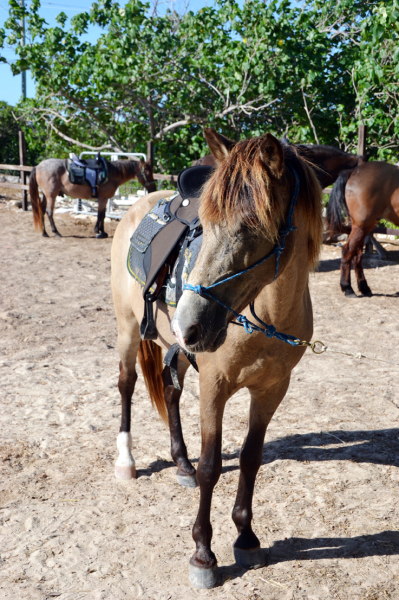 The Old farts....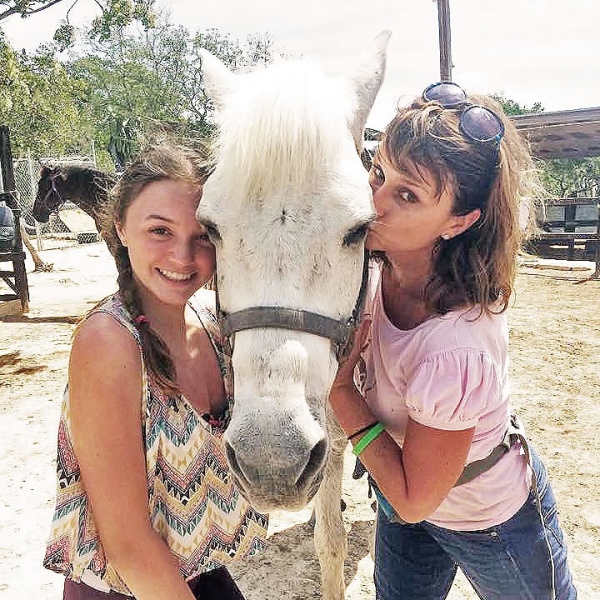 DREAMER 
is one of the original Provo Ponies. He is a Paso Fino Arab cross. He's larger than the Grand Turk Ponies measuring 14.2 hands. Dreamer is a wonderful personality and one of our smartest horses. He is an old man now so doesn't do the beach rides but will occaisionally take a little kid for a ride around the arena. When he's not romping around the paddock with his old buddy Rapido, or scratching his back on his favorite tree that is. Dreamer put in 14 years as a Provo Ponies trail horse. He learned every trick in the book. He always gaev his riders the relaxing 'Island Time' experience, with a few snacks along the way.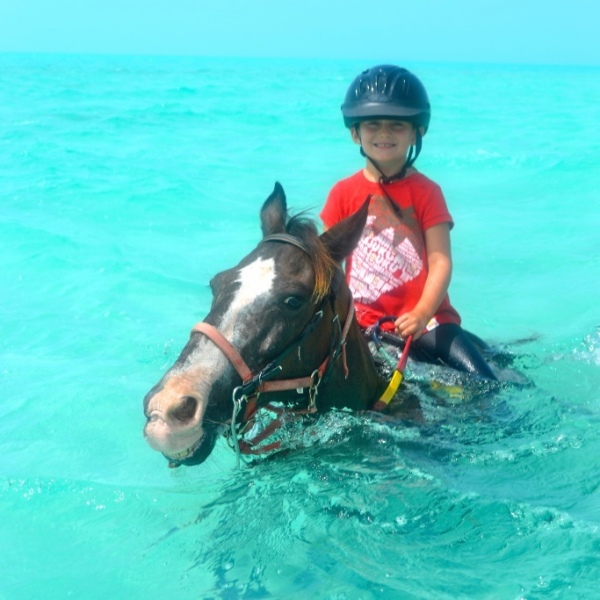 RAPIDO
may be the best pony in the Universe. He, like Dreamer has been with Provo Ponies since the start. He was retired in 2015 after a 13 year career being patient with tourists. He taught Camille's children and countless others the joy of horseback riding. His chronic history of laminitis and founder would have discouraged some owners,, but we knew that the time and effort it took to manage his metabolic condition was well worth the value of his well being. Rapido was a favorite among many Provo Ponies return guests. In his older years he took little 5 and 6 year olds out for their very first trail ride. He is one of the most parient and kind hearted creatures on Earth.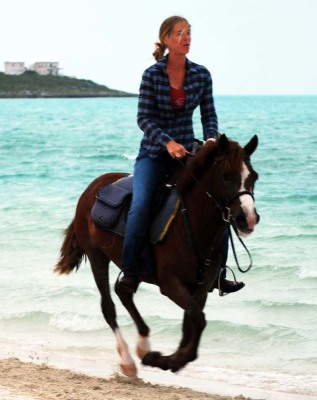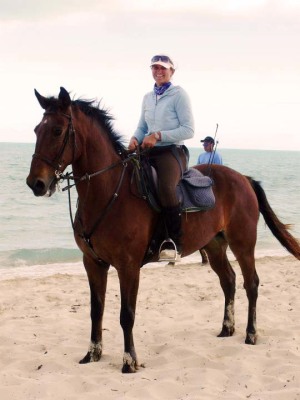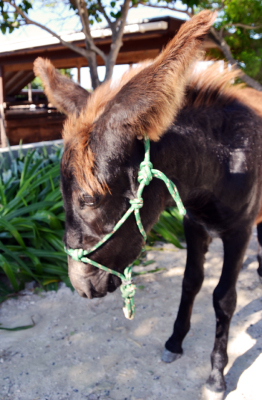 SEUSS
is a Grand Turk Pony born in 2005. He was a great little trail pony and had great aspirations as a jumper.....sadly he injured his stifle leadping over the 4 foot metal gate escaping the paddock. He's been retired since 2013 but his playful nature makes everyone smile.
KHALEESI
is a Grand Turk Dokey who is 1/4 Grand Turk Pony. She was born in August 2015. She was orphaned by her mother in Grand Turk so she was sent to live at Provo Ponies where she spent her first few months living more like a family dog than a Donkey. Now she lives down with the Horses and goes for regular walks with Camille. When she's old enough we'll teach her how to pull a Kart. 
BOSCO
was retired in 2015 after an old stifle injury from his days on the track finally did him in. In his day he was one of the best rides we had. Vibrant cheerful and always up front. leading the herd. He still has plenty of energy but can no longer carry a rider. He now spends his days with his buddy Romeo in his shaded pen and his nights turned out in the paddock romping around with the other old farts!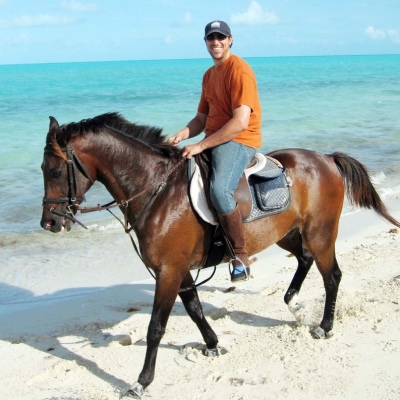 ROMEO
is semi retired. Like Bosco, an old injury from his track days was re-injured and he has been in rehab since 2014. He now goes on walk-only road rides with a resident who has taken a liking to him, but we fear that the tendon injury he sustained would re-injure again if he was ridden in the sand. SO, for now he takes it easy in the arena and on the road. At night he plays in the paddock with Bosco and some other friends. Romeo was a favourite among tourists in his day, LOVED the ocean and was always up for a run on the beach.